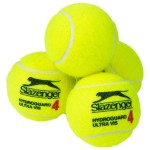 Dear Clubs,
Thank you for your Club's ball order – your balls are now ready for collection.
The HTA has an agreement with Slazenger and we buy in bulk for the Association but we pass the balls on to your Club entirely at cost. The idea behind this is that all HTA Clubs benefit from the lowest bulk pricing possible for their balls. Thanks to Slazenger and to Bruce Tucker from Tucker Tennis (SA distributor).
This season we are trialing a new and hopefully more administratively efficient ball distribution process, as follows:
To collect your Club's balls over the next 14 days or so, please:
Phone Bruce Tucker at Tucker Tennis (08) 8358 0093 and make a time for collection. Bruce has particularly asked that Clubs phone him prior to collection please.
Collect your order from Tucker Tennis at 471 Brighton Rd, Brighton, SA 5048
If for some reason your Club is not able to collect your order from Tuckers or this new collection process does not work for your Club for some reason, please discuss your courier needs with either Bruce or the HTA and we may be able to assist you to make other delivery arrangements.
EXTRA 'TOP UP' BALLS?
If your Club finds that it needs a few extra tins of additional balls throughout the season, please feel free to contact Tuckers directly to order and pay for any 'top up' orders you may require and these balls will be supplied at the same discount price as your primary order. For Clubs who may be GST registered, if you want a Tax Invoice, please obtain this from Bruce at the time of collection.
All the best for the coming season.